Contribute to something bigger
We are one national team working in all states and in Norfolk Island. We believe a team approach is the best way to make a positive difference to the lives of children and young people and the families we serve. Every single person in the Key Assets Australia team is focused on this goal and works hard to support children, families, and carers in a professional way.
We recruit our people with care and great consideration. Our people-possibly just like you- are from a wide range of backgrounds with many different levels of experience. Our diversity helps us provide the best support possible to carers, families, children and young people and all of our external stakeholders.
Why work with us
Working with Key Assets is about more than just a job. Our people do so much to put children first, so we do all we can to support them. We value you as a whole person, not just 'a worker', and we truly care about your wellbeing and your career. Because without you, we simply can't do what we do. And without us, the people we support won't get the care they need.
Benefits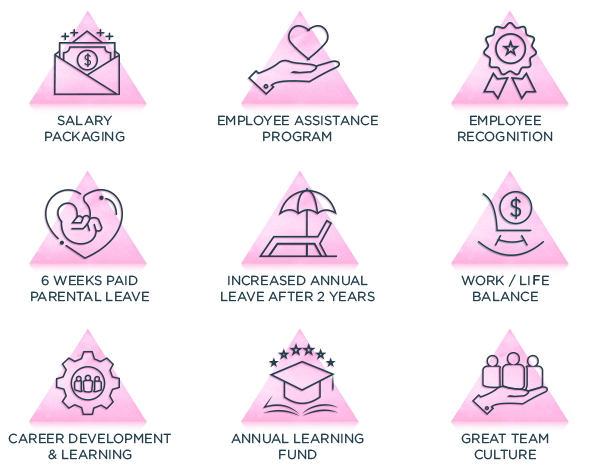 *Some benefits require eligibility criteria to be met
Our diverse recruitment practices
Our commitment to our people is to find the best person for every role we advertise at Key Assets Australia. To demonstrate this commitment, we use merit-based recruitment processes and embrace diversity and inclusion on many levels. We encourage First Nations peoples, people from CALD backgrounds, LBTQI+, neurodiverse and people of all abilities to apply. We understand and incorporate diversity within our workplace and hope that in working with us you will feel a deep sense of belonging. It's how we make sure we meet the needs of our children and young people, their families and carers.
Current Opportunities
Use the buttons below to view our current vacancies or submit your expression of interest for a role at Key Assets. If you are interested in working with us and we do not currently have an advertised position, or one listed on our expressions of interest page, please send a copy of your resume and cover letter to recruitment@keyassets.org.au
Our People and Culture
Learn why we are a great place to work. Read more about some of our team members' journeys with Key Assets.
Meet Social Worker Brandon
As a Social Worker at Key Assets, Brandon O'Reilly plays a key role in this system. Every child deserves to grow up feeling safe, supported and loved. For children in care, access to a network of supportive adults is critical to their wellbeing. Compassionate and driven, Brandon is committed to building his career with the best motivations: to support kids in care and the adults who protect them.
Meet CYPPS Worker Bernadette
As a Children and Young People Support Services Worker at Key Assets, Bernadette knew she wanted to make a difference in the lives of young people. At Key Assets, she's building a career doing just that.
Working with vulnerable children can be a difficult undertaking. It takes a truly special individual to provide the support these young people need. At Key Assets, we're grateful to have a team of incredible people working with our children, families and communities to provide the best possible outcomes. Some of the key people in this network of care are our Child and Young Persons Support Service Workers, affectionately known as CYPSS ("chips") Workers.
Meet Speech Pathologist Dee
As a Speech Pathologist at Key Assets, Dee is building a career that's in tune with her dream.
Dee was looking for a role where she could harness her creative skills to make a positive impact. Working with children and young people with disabilities is a challenging gig, but Dee says the impact she's delivering makes it all worthwhile.
Safely grow your career with Key Assets
At Key Assets, we'll provide you with the support you need to reach your career goals – whatever that looks like for you.
Inclusive Workplace Culture
Creating an inclusive workplace culture benefits both our staff and the people we support.
5 surprising facts about a career with Key Assets
Are you interested in a career with Key Assets, but not quite sure what we're all about?
Roles
We have a range of roles available at Key Assets, these can include:
We're always on the look out for qualified social workers to support and supervise our carers, to work with vulnerable families, or to work in our disability services. You'll need to have a bachelor's degree in social work and be eligible for membership to the Australian Association of Social Workers (AASW). Ideally, you will also have experience in out-of-home care, disability or child protection sectors.
Youth Work and Support Work
Our youth workers help support the children and young people in foster care. Our Support Workers work with children or young adults in our disability services. The majority of these roles are on a casual basis, which means the hours you work will vary week to week. Based on the needs of our children, young people and families we serve, sometimes, you'll need to work evenings and weekends, so you'll need to be flexible. Previous experience of working with children and young people, or working with children and young people with disability is preferable.
Variety of Corporate Service roles
As a national organisation, Key Assets Australia has several Corporate Service offerings including Marketing, Human Resources, Finance and Accounting, Risk, Audit and Business Development roles. These are critical enablers of our service delivery teams to ensure they can focus on other important elements of frontline service delivery.
Independent Foster Care Assessors
We offer fee-for-service contract positions for independent assessors to visit and assess potential foster carers. You will need to hold a Social Work qualification and have excellent report-writing skills for this role. Some states also need you to have accreditation in relevant assessment tools, for example the Step-by-Step toolkit and the Shared Stories, Shared Lives preparation training.
Executive, senior and operational leadership roles
Our executive and leadership roles ensure strategic alignment, good governance across our entire organisation. Each state has a management team led by a State Director who is assisted by an Assistant Director or Operations Manager. These roles provide professional support, line management and guidance for our local teams and also manage budgets, and drive strategy and business development and growth. They ensure we lead the way in all that we do.
Business Support Managers and Officers manage the administrative side of the business, including reception, property, inventory and supplies, and finance responsibilities supporting our corporate functions to enhance our service offering.
Speech and Language Pathology

Occupational Therapy

Psychology
Head to our vacancies page for further information about current opportunities with us.
Our Awards
Small Employer – Bronze Tier Status – AWEI 2019
Small Employer of the Year – AWEI 2018
Silver Employer – AWEI 2018
Finalist – Employer of Choice Public Sector and NFP – Australian HR Awards 2017
Small Employer of the Year – AWEI 2017
Small Employer of the Year – AWEI 2015
Gold Employer – AWEI 2017
Finalist – Organisation of the Year – Australian LGBTI Awards 2017
Highest Ranking Small Employer – AWEI 2016
Bronze Employer – AWEI 2016
Finalist Organisation/Brand of the Year – Australian LGBTI Awards 2016